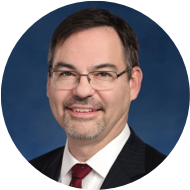 Kris Bauer
Senior Vice President, Technical Operations
United Airlines
Kris Bauer is senior vice president of technical operations for United Airlines. In this role, Kris oversees all of United's global technical operations functions, including line and base maintenance functions; aircraft reliability and regulatory compliance; administrative, engineering, planning and production support of airframes, engines and components; facilities maintenance and ground service equipment maintenance; as well as third-party sales.
Kris previously served as senior vice president, operations for Allegiant where he oversaw the airline's inflight, flight operations, ground operations, maintenance and safety functions. Prior to Allegiant, Kris was senior vice president of technical operations for Northwest/Delta. Before joining Northwest, Kris held various financial positions at United, and worked in engineering at The Boeing Company.
Kris holds a Bachelor of Science degree in aerospace engineering from the University of Kansas and received his MBA from Cornell University.
Don Wright is vice president of maintenance operations for United Airlines. In this role, he is responsible for 8,000 employees, 45 manned maintenance stations and overseeing third party maintenance.
Prior to this position, Don served as vice president of United's Newark hub, where he oversaw the entire operation for Newark, JFK and LaGuardia. Previously, Don was the managing director of technical operations, responsible for aircraft line maintenance operations at our LAX hub and throughout the Asia/Pacific region.
Don joined the company in 1988 as an international maintenance representative in Sydney, Australia, and has held several positions of increasing scope and responsibility including positions based in the Pacific, Europe and Latin America.
Previously, Don worked for Qantas Airways in various roles as an aircraft maintenance engineer. Don holds an FAA airframe and powerplant certificate and is a licensed aircraft maintenance engineer.
Don is married and has two children.
Mark Eldred is the vice president of base maintenance for United Airlines. In this role, he is responsible for the execution of maintenance, repair and overhaul (MRO) business for United. Mark oversees all maintenance and inspection of aircraft and engines, as well as internal component overhaul at our bases in Houston, San Francisco and outside suppliers.
Previously, Mark was managing director of base maintenance and MRO services, guiding the San Francisco Maintenance Center through a major transformation that resulted in better productivity and improved performance in support of the airline and its maintenance customers. Prior to that, he served as managing director of service engineering at United, overseeing the airline's maintenance operations and monitoring the performance of aircraft to identify, investigate and resolve operational problems. Mark joined United in 1994 as a line engineer.
Before joining United, Mark was an airframe engineer at USAir and a project engineer at Hawaiian Airlines. He also spent time as an AutoCAD consultant.
Mark received his Bachelor of Science degree in mechanical engineering from Florida International University in 1990. He is married and currently resides in San Mateo, CA.